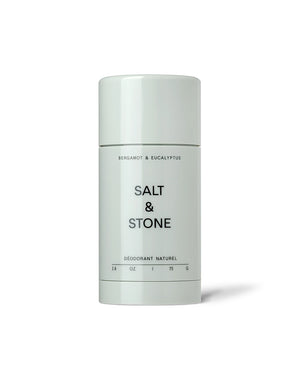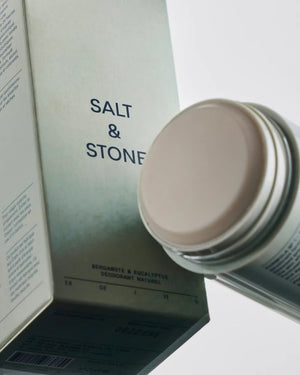 Salt and Stone
Natural Deodorant
$20.00
The Natural Deodorant from Salt & stone is an all natural, aluminum-free, unisex deodorant from Salt & Stone. 
Key Ingredients:
Seaweed Extracts — Antioxidant-rich kelp soothes and regenerates irritated skin exposed to the elements.

Probiotics — Natural ferments to balance skin's microbiome for a healthy level of bacteria, often unbalanced by excessive sweating and activity. 

Hyaluronic Acid — A water-loving molecule known for its capacity to attract and hold onto 1000x its weight in moisture. Hydrate while cleansing for skin that is soft after rinsing.

Moisturizing Oil Blend — Coconut Oil, Shea Butter and Sunflower Seed Oil soften underarm skin.
Top — Italian Bergamot, Vetiver, Grapefruit
Mid — Vetiver, Amber, Vanilla
Base — Eucalyptus, Amber, Orange Blossom
Santal:
Top — Violet Leaves, Cardamom
Middle — Orris, Ambrox, Cedar
Base — Australian Sandalwood, Amber, Crystal
Neroli and Shiso Leaf:
Top — Neroli, Italian Bergamot
Mid — Basil, Tuberose, French Lavender
Base — Cypress, Eucalyptus, Shiso Leaf